6 Thoughtful Gift Ideas for Baby Boys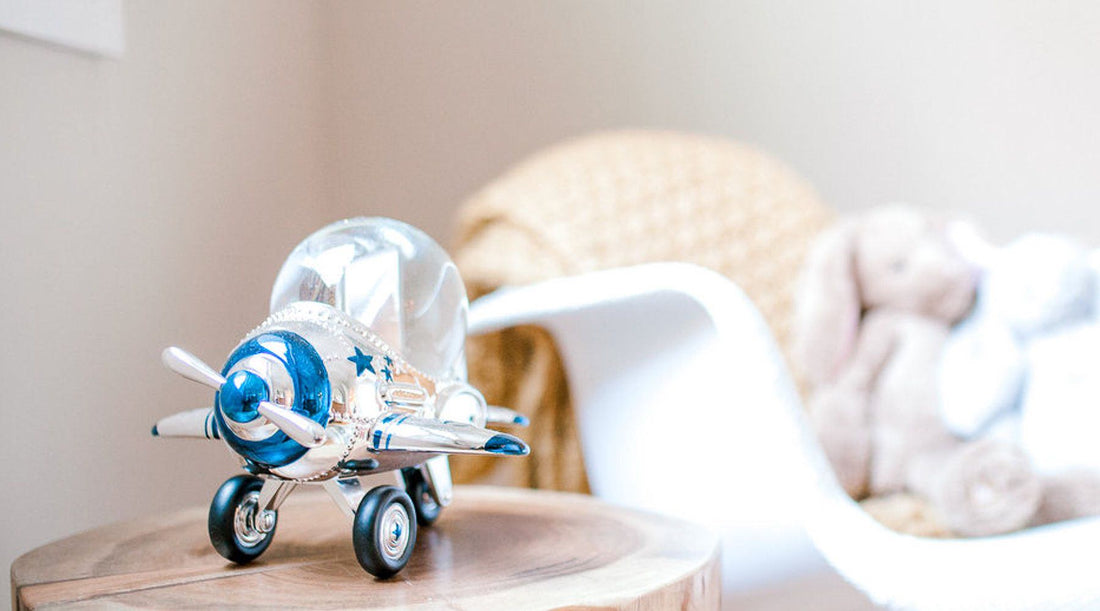 Gift Guide for Baby Boys
Have a look at some of the many gift ideas for baby boys. Still need help? Feel free to reach out anytime. We're always here to help!
Well, here we are again, a little over a month away from Christmas day. And maybe some of y'all have started shopping, maybe some of y'all haven't. I'm with the "some of yall haven't," but I plan on getting on it asap! 
This year, we did the hard work for you and curated gift guides for everyone on your list - from baby girls, Baby boys, engaged couples, moms, and dads - you name it, we've got you covered.
Gift Idea #1 - Silver Picture Frame
Let's start with baby boys. This sweet silver baby boy square picture Frame is precious, and it's the perfect little stocking stuffer or present to give and keep as a keepsake. If you'd like, you can email us a picture, and we'll pop it into the frame.  
Some other favorite picture frames to give are these adorable silver frame options - Baby's First Christmas Silver 5x7 Frame, Silver Whale Picture Frame and this stunning Sterling Silver Double 3.25 x 4.25 Picture Frame
Baby Boy Idea #2 - Silver Mint Julep Cup
Next is from one of my favorite collections: mint julep cups. These are classic gifts for anybody - young, old, or between. I get one every year for my God kids, so when they turn 18, they'll already have their own collection. It's sweet and unique and something I hope they'll put to good use one day. Some great options are any of these three - 12 oz Carolina Mint Julep Cup, 9 oz Georgia Mint Julep Cup or this stunning sterling silver 9 oz Kentucky Mint Julep Cup.


Present Idea for little boy #3 - Sterling Silver or Pewter Baby Spoon
Our silver baby spoons are another great gift idea. We have sterling silver and pewter options to choose from, and it's something babies can use while learning to hold a utensil and feed themselves. 
Our spoons can have hne initial engraved on then and it looks so lovely. Their quality will have you passing them down for years to come.
Some sweet options are our sterling silver Jackson Baby Spoon, silver initial spoon, and sterling silver Virginia Bent Baby Spoon
Thoughtful Idea #4 - Silver Baby Rattle
Another timeless baby Christmas present is a sterling silver or pewter baby rattle. How absolutely precious are they? Not only is it fun for any baby to play with while their young, but it will also be a beautiful keepsake to pass down for generations. 
All of our silver rattles can be engraved with a monogram, date, or special message on either side. Here are a few ideas for you silver dumbbell rattle, silver dumbbell rattle with stacking ring handle and this gorgeous sterling silver dumbbell rattle with beading.


Idea #5 for Gifts for Boy - Sterlng Silver Teething Ring
How about our sterling silver teethers? They help soothe gums from the pain of teething. And (let's be honest) also provide parents a little relief from the screaming of said teething pain lol.  
Our teething rings have three different colors to choose from and two different stles to choose from. The first style is a teething ring that has a smooth surface on both sides like this light blue sterling silver teething ring and this sterling silver white teether. They can be personalized with a custom engraved monogram and/or date. 
Idea #6 - Silver Porringer Bowls
And lastly, our sterling silver and pewter porringer bowls can be used while the baby is young and can also be passed down to their kids in the future. This traditional gift is pretty enough to be displayed or used daily. The traditional handle porringer bowl, silver images of america porringer or our sterling silver beaded porringer bowl are all great options for any little baby boy bundle of joy!
6 Gift Ideas for Baby Boys
Now, we can all let out a collective "awwwwwwwww" with all the cuteness above! Hopefully, this gift guide gives you plenty of ideas for any baby boy. Need your present gift wrapped? We're happy to do that for you. Just indicate in the notes that you'd like us to wrap it. We'll also enclose a card with whatever you'd like us to say. 
Remember to fill out your engraving information on our engraving form, and we'll get back to you with an engraving proof. If you have any questions, feel free to reach out anytime.
DON'T FORGET TO PIN FOR LATER!